- Delhi Places to See
- Delhi Excursions
- Delhi Travel Packages
- Travel Agents in Delhi

Hotels in Delhi
- 5 Star hotels in Delhi
- 4 Star hotels in Delhi
- 3 Star hotels in Delhi
- 2 Star Budget hotels in Delhi
- 1 Star Low Cost hotels in Delhi
- Heritage hotels in Delhi
Important Places in Delhi
Chandini Chowk Market, Old Delhi, Red Fort, Humayun tomb, The Raj Ghat, India Gate, Rajpath, Jantar Mantar, Purana Qila Old Fort, Tughlaqabad Fort, The Mughal Garden, Lodhi Garden, Nehru Park, Bahai Lotus Temple, Chhattarpur Mandir, Gurudwara Bangla Sahib, Sacred Heart Cathedral, ISKCON temple Delhi, Delhi Jama Masjid, Swaminarayan Akshardham Temple, International Dolls Museum, National Museum, National Railway Museum, Nehru Memorial Museum, Tibet House
Tourist Places near Delhi
Sohna Hills, Damdama Lake, Badkhal Lake, Sultanpur Bird Sanctuary, Surajkund


Chandni chowk
Book Now
Chandni Chowk in Delhi
Chandni Chowk is a major shopping area of Delhi. If you are a shopaholic, you must visit Chandni Chowk. The Chandni Chowk is the major attraction for habitual shoppers. The market is far from the conventional airconditioned malls or gorgeous shops with plush interiors in posh markets yet its importance can be boasted of about among wholesale traders. In Mughal era Chandni chowk was famous for the Fountains and the shops.
Gradually the fountains of the Chowk disappeared but the shops still remained and the flock continued to grow. Chandni Chowk can rightly be called the "shopper's paradise" in Delhi. The market offers everything that shoppers might think to buy for embellishing oneself and home as well. One great thing about this market is that you will get all goodies at highly subsidized rates. If you have the time and energy to look around and bargain, this is the place you should visit. The place is a paradise for retailers too.
History of Chandni Chowk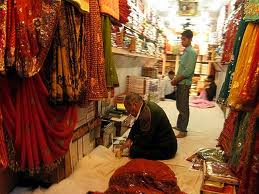 The market of Chandni Chowk is very old. The origin of Chandni Chowk dates back to the Mughal era in Indian history. According to legend, Chandni Chowk market was established during the reign of the Mughal Emperor Shahjahan. After shifting his capital from Agra to Delhi emperor Shahjahan established Chandni Chowk in 1650. A large 'chowk' or square with a centrally located pool was incorporated in the initial design. The market of Chandni Chowk prospered and grew through the ages. It soon became the heart and soul of the commercial activities of Mughal Empire and the legend continues till today. The present Chandni Chowk market symbolizes the development through three centuries.
Location of Chandni Chowk in Delhi
Chandni Chowk is located in Old Delhi, Delhi-6, opposite to the famous Red Fort of Delhi. It is also very close to the Jama Masjid.
Chandni Chowk can be easily accessible by local Delhi bus, Autorickshaws. There is one Delhi Metro Railway Station in the middle of the market. The ISBT Bus Terminal and Old Delhi Railway Station are also nearby from Chandni Chowk.
The notable markets in Chandni Chowk are:
Nai Sarak for books, stationery items and musical instruments
Cloth Markets at Fatehpuri and the various Katras for textiles
Dariba Kalan and Kinari Bazaar for jewelry
Dariba Kalan for silver items
Bhaghirath Palace for medical equipments and Allopathic medicines
Chawri Bazaar for paper, stationary items and musical instruments
Ballimaran for shoes and opticians
Kinari Bazaar for Zardozi items and laces
Flea market (daily at Jama Masjid) for antiques and all kinds of bargains
Old Lajpat Rai Market for electrical goods.
Cycle Market for bicycles and photography
Moti Bazar for shawls and pearls.
Khari Baoli for dry fruits, pulses, food grains, spices and saffron
Tilak Bazar for chemicals.
Famous Restaurants/confectioners (halwais) in Chandni Chowk:
The Ghantewala Halwai, established in 1790.
Natraj's Dahi Bhalle, established in 1940.
Kanwarji Bhagirathmal Dalbijiwallah established in mid-19th century.
Chaatwallah established in 1923, famous for fruit chat.
Bikaner Sweet Shop famous for rasmalai.
Gianiji ka Falooda famous for Rabri Falooda, established around 1947.
Paranthe wali Gali with paratha shops from 1875-1886.
Meghraj and Sons, since 1950s
Chainaram established in 1948
Famous eateries in Chandni Chowk are:
Chatwallah
Bikaner Sweet Shop
The Ghantewala Halwai
Haldiram's
Natraj's Dahi Bhalle
Gianiji ka Falooda
Historical mansions in Chandni Chowk:
Begum Samru's Palace of 1806 now called Bhagirath Palace.
Naughara mansions in Kinari Bazaar
18th century Jain mansions.
Khazanchi haveli
Haveli of Mirza Ghalib
Chunnamal haveli, Katra Neel
Haveli of Zinat Mahal, Lal Kuan Bazar
Haksar Haveli, Bazar Sitaram
Haveli Naharwali, Kucha Sadullah Khan
Tips for enjoying shopping in Chandni Chowk:
While going around Chandni Chowk pay special attention on your pockets.
Beware of touts and the duplicate products.
Shopping here will fetch you great bargains. Don't forget to bargain! You will get best deal on your choice of product. If other markets are offering you something at a price of Rs. 400/- then you will easily get the same stuff here at flat fifty percent rate.