National Museum
Book Now
National Museum in Delhi
The National Museum in New Delhi is one of the largest museums in India. Established in 1949, it holds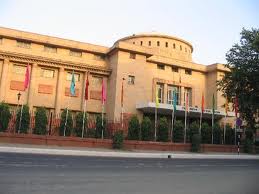 variety of articles ranging from pre-historic era to modern works of art. It functions under the Ministry of Culture, Government of India. The museum is situated on the corner of Janpath and Maulana Azad Road. The museum has 200,000 works of art, both of Indian and foreign origin, covering over 5,000 years.
It also houses the National Museum Institute of History of Art, Conservation and Museology established in 1983 and now a Deemed University since 1989, and run Masters and Doctoral level courses in History of Art, Art Conservation and Art restoration.
History of National Museum
The roots of the National Museum begin with an exhibition of Indian art and artifacts at the Royal Academy in
London in the winter of 1947-48. At the end of the London exhibition, the exhibition curators had decided to display the same collection intact in India before returning the artifacts to their individual museums. The Indian exhibition was shown at the Rashtrapati Bhawan in 1949, and was so successful that it led to the decision to form a permanent National Museum. On 15 August 1949, the National Museum was formally inaugurated by the Governor-General of India, Chakravarti Rajagopalachari. At that time, it was decided that until a permanent home could be found for the collection, it would continue to be housed at the Rashtrapati Bhawan.
The cornerstone of the present museum building was laid by J.L. Nehru, then Prime Minister of India, on 12 May 1955, and the building formally opened to the public on 18 December 1960.
Today, the museum is administered and funded by the Department of Culture, Ministry of Human Resource Development.
Collection of Art Works
The museum has in its possession over 200,000 works of art, of both Indian and foreign origin, covering more than 5,000 years of Indian cultural heritage. Its rich holdings of various creative traditions and disciplines which represents a unity amidst diversity, an unmatched blend of the past with the present and strong perspective for the future, brings history to life. The Buddhist art section has a most known for sacred relics of the Buddha (5th-4th century B.C.) unearthed from Piprehwa, Basti district.
The collections covers archaeology, arms, armour, decorative arts, jewellery, manuscripts, paintings, etc.
Other Collections
Apart from the collections of Pre-historic Archaeology, Archaeology, Jewellery,Paintings, Decorative arts, Manuscripts, Central Asian Antiquities, Arms and Armour, etc. ,the Museum today has a separate branches of publication, Hindi, Public Relations, Education, Library, Exhibition cell, Display, Modelling, Photography, Security and Administration.
Other Delhi Museums
National Gallery Of Modern Art - The Gallery Near India Gate At The Eastern End Of Rajpath, Was The Former Residence Of The Maharaja Of Jaipur. It Houses An Excellent Collection Of Works By Both Indian And Colonial Artists.It Is Open Daily From 10 Am To 5 Pm.
Nehru Museum - The Residence Of The First Indian Prime Minister, Teen Murti Bhavan, Has Been Converted Into A Museum. It Is Located On Teen Murti Rd. Near Chanakyapuri. Photographs And Newspaper Clippings On Display Give A Fascinating Insight Into The History Of The Independence Movement.
Rail Transport Museum - Visit This Museum At Chanakyapuri For A Fascinating And Exotic Collection Of India's Railway Engines. Exhibit's Include An 1855 Steam Engine, Still In Working Order, And A Large Number Of Oddities Such As The Skull Of An Elephant That Charged A Mail Train In 1894, And Lost. The Museum Is Open Tuesday To Sunday From 9.30 Am To 5 Pm And There's A Small Admission Fee.Ph.:26881816(Monday closed).
Crafts Museum - This Museum Contains A Collection Of Traditional Indian Crafts In Textiles, Metal, Wood And Ceramics. It Is Located In The Aditi Pavilion At The Pragati Maidan, Exhibition Grounds,near gate no. 1. ,Mathura Rd. It Is Part Of A 'Village Life' Complex Where You Can Visit Rural India Without Ever Leaving Delhi and many others.