Ramgarh
Book Now
Ramgarh Near Jaipur
Ramgarh is located at a distance of 25kms from the city of Jaipur. In the present day, this primeval spot is eminent for its huge artificial lake. This lake has been shaped by raising a high bund amidst the hills covered with trees. In the rainy season, when the lake gets inundated with water, people come in large numbers for a picnic. Ramgarh Lake is around 4 kms in length and 2 kms in width, big enough to please the crowds.
Ramgarh is a place of royal past that boasts of a majestic hunting lodge. However, the lodge has been converted into a gateway hotel with the changing times. The wrecks of the ancient fort still remind one of its old days when the Kachhawah's first settled here before moving on to Amer. Even today, the temple of Jamwa Mata attracts the tourists for its magnificent architecture. Every year, people from far and near come to visit the place.
Ramgarh Lake
This lake almost defines the beauty of this small town, surrounded by Arawali Hill Ranges, this lake is prefect Natural panoramic beauty attracting thousands of tourist each year. This Lake was one of major water resources for Jaipur city before year 2000; when it gone almost dry. The dense forest surrounding Lake and nearby areas is habitat of wide range of Wildlife animals Lion, Chital and Neelgai being major contributors and has been declared as Wildlife sanctuary by Government of India in year 1982.
Jamwai Mata Temple at Ramgarh
This temple is located at down streams of Ramgarh Lake in greenery bound area. Jamuvai mata is the kuldevi of kachwaha suryavanshi rajput clan of Amber(Jaipur). The temple of goddess was built by Rao dulherao of kachhwaha clan in jaipur near present Ramgarah Lake and later it is called Jamwa Ramgarh by the name of goddess Jamuvai.Previously this town is known as 'manch' and there was a temple of budhvai mata ji and the statue is still there in the same temple. It is much accepted view that Rao Dulherai had a dream about Jamwai Mata who directed him to conquer the area and when he won the war with local Meena Landlord he renamed the town 'Maanch' as Jamwa Ramgarh. This is very devotional shrine for whole of the Kachwaha rajputs.
Other Attractions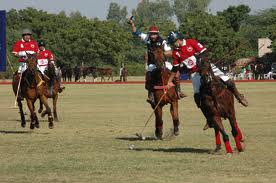 Attraction at Ramgarh is the Polo grounds, located between the Aravalli Hills and Ramgarh Lake. This Ground is considered as India's best Polo ground. Finely groomed, this ground has the best trained horses unlike anywhere. At present, though the original structures are in ruins, still the beautiful scenery of Ramgarh, makes it a relaxing picnic spot and worth a visit.
Near Ramgarh Lake lies another historic edifice the Ramgarh Lodge, with a museum and a library. Kachhawah's first settled here before moving on to Amber Fort, Now Ramgarh Lodge has been converted into a heritage hotel. It's covered with a latest technology, beautiful and cool atmosphere and now considered as a biggest hotel in all over India.
From Ramghar you can explorer while on your trip to Ramgarh Lake are Hawa Mahal 27 km, Albert Hall Museum 30 km, Jaigarh Fort 29 km.
More Info
Location: At a distance of 25 kms in the north-east of Jaipur
Highlights: A huge artificial Lake
Place: Ramgarh Lake, 25 km. north east of Jaipur, Rajasthan
Best time to visit: October to March
Boating on the lake: October-June